[uMBc] Umbrella Corporation's [uMBc] Private!!


This topic is for those who enroll in our family of Swat4.

Step 1:
Appear
and
participate
in our servers when they are available, showing interest in entering the family.
Step 2: If possible talk to some clan members about possible interest and
draw possible questions
you may have.
Step 3: After
all is explained and you have the address already in our view the forum
topics allowed including that which you facilitated your subscription.
Step 4: Register on the forum with
your nickname
that you'll want to use in the game and be treated here in the forum by filling in all fields with
real data
.
Step 5: After you do the registrar receives an email from us
confirming
your registration.
Step 6: Come to the forum by logging in then go to the topic
Recruitment / Registration uMBc after
register
(entry charge has there ... but dont forget the data that are in low) and the last page to post the following data:



To make a aplicacion you must answer that questions.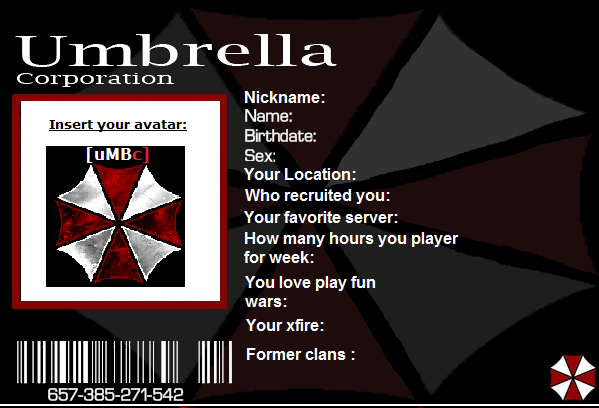 After all that ... One of the
Leaders
will post (when you dixer it by xfire)
if you've been accepted or the number of test days ... Like also your positive participation in the forum
and
your possible entry
into the
uMBc
We are waiting for you!!

[uMBc] Umbrella Corporation's [uMBc] Private